Tanto has also invested in state-of-the-art container yard facilities in every port. Top of the line container and chassis handling equipments support minimizing the total time our customer's trucks spend in our yards. We manage a total of 246,000 sq.m. of container yards in Surabaya and Jakarta.

The yards in Surabaya have a total area of 141,000 sq.m. with a storage capacity of 16,600 TEUs while the ones in Jakarta have a total area of 105,000 sq.m. with a storage capacity of 13,200 TEUs. All our yards use the Tanto Information System (TIS) software, with the ability to maintain huge storage database, provide up-to-date container status reports and industry standard Electronic Data Interchange (EDI) functionality.

All these features help streamlined our gate operations to increase productivity and hassle free transactions for our customers. Our yards are securely fenced and lighted, with full container services 24/7, as well as overnight reefer plug in service.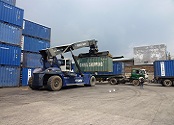 CY PDI Jakarta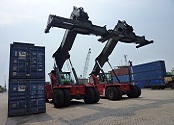 CY 101 Jakarta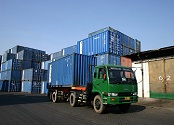 CY 2 Surabaya