Tanto fully-owned reach stackers and container forklift trucks, Kalmar and SMV Konecranes, features an array of innovative solutions such as the box-type chassis, load-sensing hydraulics (power-on-demand), electronic controlled low-emission engines, electronic overload protection, and a newly designed cabin with improved ergonomics. Such abilities have greatly improved efficiency, not to mention productivity and thus saving enormous time and cost.

Our empty container handlers, sideloaders, are able to stack empty containers up to a maximum height of 8+1 containers, thereby optimizing storage space and volume. We truly understand that in a competitive environment where ship turnaround times are increasingly important, highly productive and reliable container handling equipments are the main issues.

All Tanto's heavy equipment operators are certified and recertified annually through our comprehensive internal training program. This ensures that our customers receive the level of quality service they insist upon and deserve.
Kalmar Reach Stacker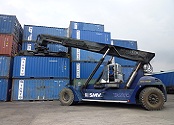 SMV Reach Stacker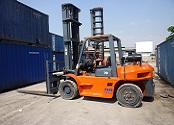 Forklift